A great way to add uniqueness and style to your clothing is by adding collars to the garment's neckline. Jackets provide you with a whole different appearance to your personality. However, there exist various types of jacket collars that add more value to your jacket. Therefore, it is important to understand the jacket collar types to choose that suit your preference and taste as well as add to your personality.
What Is a Collar?
A collar is the part of a blouse, coat/ jacket, or blouse that frames or fastens around the neck. Collars are considered a person's most revealing gesture of individual style. Most importantly, collars contribute to the ultimate appearance and style of your clothing. You may find a collar that is detachable or attached permanently to the main part of the garment.
Image Source: apposta.com
Note that collars are available in various styles, designs, and shapes which are decided by the fashion trends in the season. This range from simple collars, including stand collars or mandarin collars, to more complex, including shirt collars.
However, most collar types possess the same basic construction. Remember that every collar style demands a certain assembly technique and application to the neckline and front opening finish.
Types of Collars
Before we indulge in the types of jacket collars, let us understand the different types of collars. When constructing clothing, you use 3 different types of collars. These collars include:
1. Flat Collar or Non-Convertible Collars
Image Source: thecreativecurator.com
A flat collar is non-convertible because it lays flat against the clothing. The flat collar types are peter pan collar, ruffle collar, and sailors collar.
2. Stand Collars or Convertible Collars
Image Source: ajio.com
Stand collars are convertible collars styles that stand up against your neck. A standing collar entails a funnel neck collar, a Nehru collar, and a mandarin collar. These collars stay in position.
3. Roll Collar
Image Source: mavenpatterns.co.uk
This collar style rolls over, falling away from your neck. The shirt collar is one of the roll collars developed from a stand and collar. More so, the shawl collar is also a roll collar
Jacket Collar Types to Upscale the Overall Look
1. Bertha Collar
The bertha collar is available in a semi-formal and formal coat or jacket designs are most likely worn with evening wear. These jackets come with an embellished collar with a scalloped edge. Moreover, the collar is the width of several inches in width.
Image Source: Pintrest.com
In addition, it has a shallow scoop style that develops a slight curve downward. In addition, the jacket further has a collar that stretches across the neck's base from the top of every shoulder. You can get them as detachable collars.
2. Mandarin Collar Style
Image Source: jekyllandhide.co.za
The mandarin collar possesses a sharp and modern appearance to it. The collar is short and stands straight up. This collar moves around the neck in a band with a small gap at the center of the throat. Subsequently, mandarin is a minimalist and simple collar that you come across on most modern jackets and coat designs.
3. Johnny Collar Style
Are you thinking of a classic collar? Then focus on johnny collar. The collar is an elegant and simple traditional collar style. This collar sits flat and is not stiff on the neck. Instead, it stands up against your neck.
Image Source: Pintrest.com
Johnny collar is folded over and has a 1-2 inch medium width in a sloping style that angles towards your neck. More so, it has pointed ends and a spread of approximately 2 inches wide.
4. Peter Pan Collar Style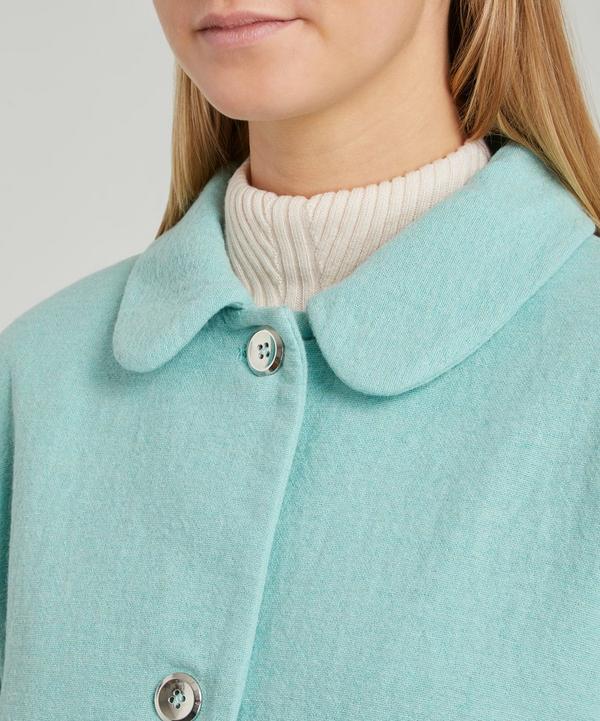 Image Source: libertylondon.com
This collar design is considered a classic embellishment with adds a charm and whims touch to any jacket design. It comes with a narrow collar with a round shape that fits around your neck in a single fabric. It then connects at your throat with a narrow and small spread. More to that, it has rounded edges that give the garment a different look. Note that you can them as detachable collars.
5. Bermuda Collar Style
Image Source: rukminim1.flixcart.com
This is a variation of the peter pan collar style. The collar is flat with a peer pan shape. More so, it has a square edge that ends with a short point instead of rounded edges.
6. Puritan Collar Style
Image Source: saksfifthavenue.com
Also known as the pilgrim collar, the puritan collar has a very wide collar that lies flat with a sharp angle towards your chest. It then ends in points and meets at the neck's bottom and gets a wide spread from here. Moreover, the puritan collar is large and distinct and you may pair it with a lapel or you can wear it alone.
7. Wing Collar Styles
Image Source: 1ereavenue.com
These collar styles have an appearance that adds flair to any jacket design. The collar sits flat and fits in a thin band around the back of your neck. It then spreads into 2 narrow, flaring triangles on both sides of the neck and across your collar bone.
8. Mao Collar
Image Source: ae01.alicdn.com
Mao collar is a straight collar famous by Mao. When folded over it creates a slightly military collar. This collar is available on women's and men's jackets.
9. Eton Collar
Image Source: walmartimages.com
This collar features a wide collar design with a widespread, flat, and straight design. This collar type ends in points and possesses a uniform and simple style.
10. Dog Ear Collars
Image Source: denimio.com
This is a wide-collar style that is connected to shirt fashion in the 1970s. However, it is available in coats and jackets in vintage and modern designs. In this collar type, you will find a short collar with wide to sit flat over your collar bone. Moreover, it comes with a narrow spread and ends in sharp points.
11. Ruffle Collar
Image Source: lystit.com
When done well, ruffle collars are attractive. If it is attached to the neckline and lies against the clothing, then it can be grouped as a non-convertible flat collar. However, it if is attached to a stand, with a smaller ruffle and pointing upwards, it can be classified as a convertible stand collar.
12. Turtle Neck Collars
Turtleneck collars or polo necks are available in most casual clothing. They are used in jersey tops to warm the neck and remain self-facing because they are cut on the fold instead of 2 pieces before attaching it to the neckline.
Image Source: superdry.com
Moreover, when added to woven fabrics, the turtleneck collar is cut into two. It also has installed clothes fastening to make it possible to get out and in the garment.
13. Sailor Collars
Image Source: akamaized.net
These collars obtained their name from the traditional sailor's uniform. The sailor collar has a square on the back and develops a deep v-neckline on the front. Despite remaining common on sailor's uniforms, the sailor collars are famous in childrenswear.
14. Notched Collars
Image Source: laura.ca
The notched collar style is developed with a collar piece. The collar piece is joined to the facing of a front bodice piece, After joining, you create the notch.
15. Hoodie Collars
Image Source: fanjackets.com
The hoodie collar jackets are trending currently and provide a modern style. You can wear these hoodie collar jackets in a relaxed environment with friends, with corduroy pants for a business casual look, at school or nightout. Plus they are lightweight and made from faux-leather, polyester, or nylon making them adaptable to your wardrobe.
16. Lapel Collar
Image Source: suitsexpert.com
A lapel is the extension of a collar of a jacket or coat and comes in three different types, including peak lapel, shawl lapel, and notch lapel collars. A lapel speaks a lot about your overall theme and personal style in your attire. The lapel can be cut and sewn separately or constructed as part of an extended facing.
a) Peak Lapel
This type of collar is found on men's jackets and suits and is not common because it remains one of the most costly and challenging to make collar types. Therefore, you are likely to see this lapel in high-end jackets and suits and custom-made suits.
Image Source: alicdn.com
However, it is more fashionable and brings flare to your attire. A peak lapel is characterized by edges pointing toward your shoulders. Bear in mind that you can recall this collar by imagining it as a mountain peak. Wearing a jacket with a peak lapel will make you stand out from the crowd.
b) Notch Lapel
Unlike the peak lapels, the notch lapels remain the common lapels and you are most likely to have come across them. When you chose a suit for the first time, most individuals go for this collar type. Not because it is simple or boring, but because it always works. This lapels suit any kind of clothing aesthetic.
Image source: webflow.com
The name notch originated from a small notch on the collar and is mainly found in coats and jackets. Looking closely at the lapel, you see that it appears like a person has taken a simple piece of the coat or jacket off creating a v-like incision.
c) Shawl Lapel
Image Source: asos-media.com
Shawl lapel looks different from the other lapels because the lapel goes all the way around your neck instead of your jacket having a piece or edge taken out. It simply goes around your neck smoothly without any peaks or notches.
These shawl collars have been in people's wardrobes for a long and are an entirely fashion-oriented type of clothing. This lapel is mostly worn with a tuxedo, however, on some occasions, it can go with a sport coat.
How Do You Choose the Collar for Your Face Shape?
Image Source: n.nordstrommedia.com
Did you know that the kind of collar you chose to wear can greatly improve the shape of your natural face and facial features? Note that some collar styles won't flatter with the shape of your face. Therefore, you must choose the collar designs that will look great on you.
1. Oval Face Shape
If you have a more narrow jaw and cheekbones, you will look amazing on widespread collars. This is because it will assist you in getting your face some width and adding definition to the jawline. Do not go for collars with a long point or spread collars. Ensure you focus more on rounded collars as they will bring out the best in you.
2. Round Face Shape
Do you have a round face with fuller cheeks and rounded jaws? Then choose a structured collar with points. A pointed collar will develop contrast and assist in creating a narrowing effect to elongate your face. Remember that collars with a wide spread will make your face appear fuller and wider. Therefore, avoid them and select narrow collars that give a narrowing effect on the face.
3. Square Face Shape
What if you have a square face with a more square jawline and a less pointed chin? Then narrow and long collar styles are the best choice for you. Go for collars with narrow spread and elongated designs to assist in lengthening your face. Bear in mind that collars with a wide spread will assist in making your jaws appear wider and a bit heavy. Therefore, you must stick to this collar style.
Selecting collar types on jackets or coats will assist you in showing off your personality style and flatter. If you like it elegant and simple, choose a collar with less volume. However, if you like its flair, go for wider collar styles with lapels. Making the right choice makes you stand out from the crowd and enhances your style and appearance.
Frequently Asked Questions on Types of Jacket Collars
Image Source: effortlessgent.com
1. How Do I Differentiate Between a Jacket and a Coat?
Jackets are worn during windy and cold weather while coats are worn during snowy. rainy, windy or cold weather. Technically, the two are differentiated by their length. Jackets are shorter than the length of the hip while coats are at least the length of the hips. More so, jackets are lighter and do not provide much warmth compared to coats.
However, when it comes to collar style, jackets and coats have many similar styles. You must stick to selecting the right collar depending on the shape of your face and your desired style.
2. Should You Wear a Jacket with a Contrasting Collar?
Contrasting fashion remains a way to add distinct style and draw the eye to an item. Jackets with contrasting collars permit you to have another color to the general outfit for men and women to create a complementing or contrasting style using various colors.
A contrasting color can flatter your natural coloring while wearing a jacket in a color that doesn't have to complement you. After all, good fashion is about contrasting the colors well, hence you can wear contrasting collar coats or jackets.
Image Source: mensxp.com