Jogger pants are no longer merely for running; they have evolved into a huge fashion statement! Both men and women have been seen wearing these pants with tapering ankles in a variety of settings. But can you look stylish and remain comfortable if you style high tops with jogger pants?
Well, we'll outline some fundamental guidelines for dressing in joggers with high tops in this style guide, as well as show you other shoes to wear with jogger pants.
Ready? Let's get to it.
What Are Joggers?
Joggers are pants that are tapered at the leg and have a tight cut. Originally intended to be worn as sports pants for runners to train in, joggers are often composed of cotton or polyester mixes.
Image Source: themodestman.com
Your joggers should fit snugly around your waist, just like your jeans do. The pant legs should suit your quadriceps and calves, and the crotch shouldn't be baggy or have a "pouchy" appearance. You want the elastic cuff at the ankle area of the joggers to hug just above your ankles.
Joggers are incredibly adaptable and come in a wide variety of styles to meet your fashion needs in the gym, the mall, your house, or the office. There are different types of joggers, including smart joggers, everyday joggers, lounge joggers, and athletic joggers.
What are High Tops?
The high-top is a style of shoe that reaches just above the wearer's ankle. It is an athletic shoe, especially for basketball. While high tops typically relate to athletic shoes, they should not be mistaken for shorter-length boots like ankle boots. Technically, high tops are any sneaker that covers your ankles.
Image Source: gq-magazine.co.uk
When it comes to style, high tops combine the ease of a sneaker with the sharpness of a boot. Although high tops have changed significantly since their first designs, the basic idea has remained the same.
High tops are the perfect footwear for a variety of activities, including daily walks around the city and trips that involve lots of walking and Instagram shots. Some of our favorite sneakers for these shoes include the Converse All-Stars, Nike Air Force 1, 2, and 3, Reebok Freestyle, Reebok BB4600, Nike Air Yeezy, and the Fila Foggia Hi LTD.
How to wear joggers with High Tops
Image Source: media.gq.com
Joggers go with a surprisingly wide range of shoes. Nevertheless, if you're looking for a sure thing, nothing beats high tops or sneakers. It makes no sense to wear anything other than casual shoes because joggers are unquestionably casual.
In addition to its lovely, stylish design, this type of shoe also delivers sports-related health benefits, playfulness, and fashion. People who value individuality, vigor, youth, and freshness should choose this combination.
A clean pair of white high tops go nicely with just about any color and style of athletic pants, making it arguably the most adaptable item of clothing you can own. When paired with extremely dark hues like navy and black, brightly colored shoes can stand out dramatically.
Best Ways to Style Joggers With High Tops
A) Athletic Look
Image Source: themomedit.com
The simplest option to wear high tops with your preferred joggers is to totally embrace the athletic appearance and team them up with another athletic piece on top, such as a fitting white tee and a track jacket or hoodie. If necessary, you can slightly raise your jogger pants so that the hem rests outside rather than within the shoe.
B) Wear layers
Image Source: popsugar-assets.com
Wearing a sweater inside a coat or jacket or a turtleneck underneath the blazer, with high tops, creates a stylish jogger outfit. Due to the nature of the weather, this outfit combination is more pleasant to wear in the winter. Depending on your comfort level, you could want to wear a tank top underneath a denim jacket or a checkered shirt while styling your joggers with high tops in the summer.
C) Pair with a jacket
Image Source: i.pinimg.com
An elegant appearance can be achieved by layering a blazer over your joggers and finishing your outfit with high tops. You can liven up your appearance by wearing joggers with high tops and a blazer.
d) Pait them With A Crop Top
Image Source: i.pinimg.com
Try wearing high tops and joggers with a crop top if you like to expose a little more skin or want a more risque look. Joggers go from casual to edgy with the addition of a simple white crop top, which is so easy to find.
If you want to be a little bit more covered, you could always add on a moto jacket or an oversized fleece.
Other Shoes to Wear with Joggers
1. Classic Lace-Up Sneakers with jogger pants
Image Source: hoodmwr.com
If you are looking for cool and relaxed jogger outfits, then you must try out the jogger with sneakers combo. A great pair of sneakers elevates the complete ensemble. To keep the look more polished, opt for stylish white sneakers, a track jacket or bomber jacket, and a pair of black joggers.
2. Chunky Sneakers with Jogger pants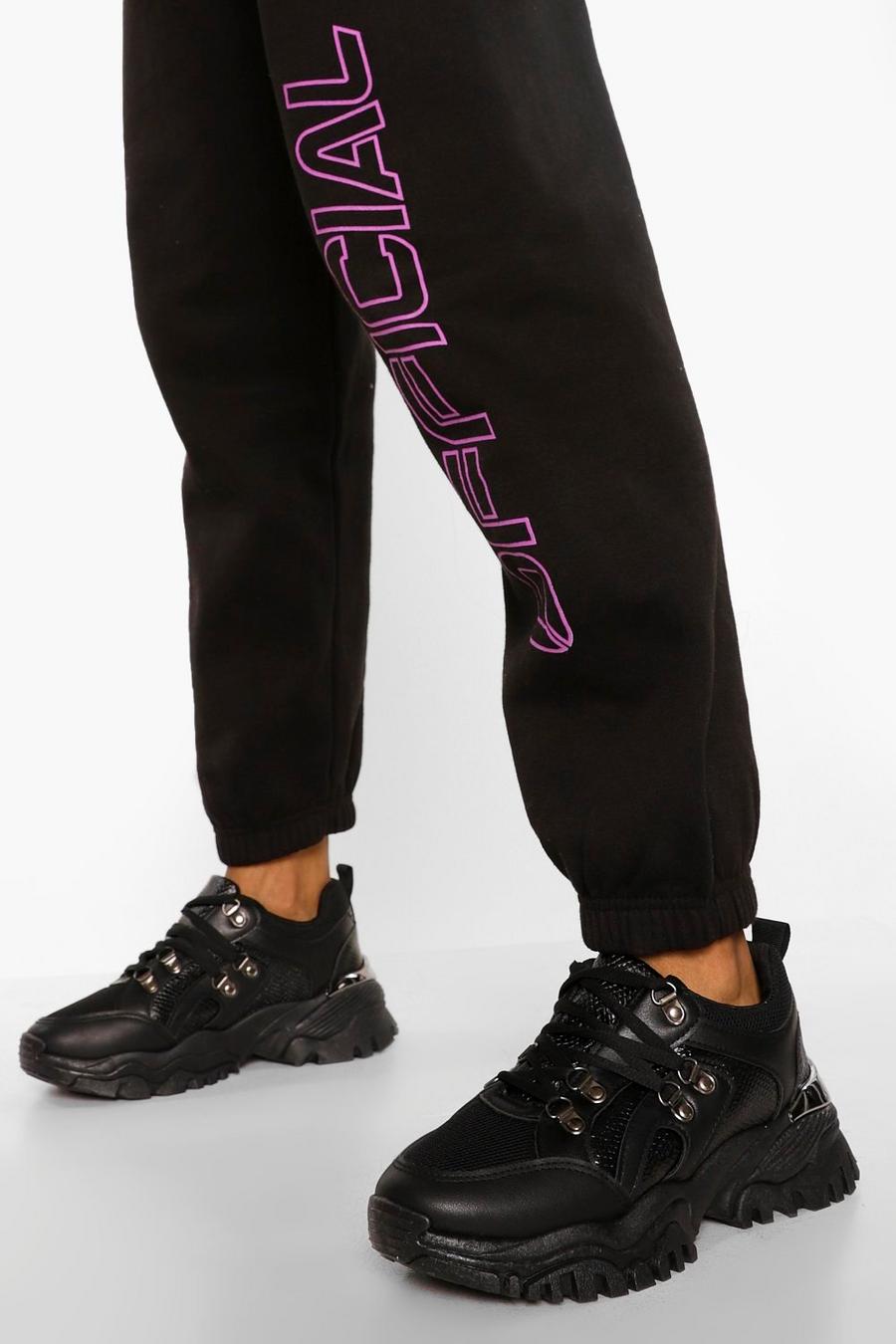 Image Source: boohoo.com
Like with any casual shoe, you can elevate the look with a pair of chunky sneakers. This shoe type combines a contemporary touch with the widely popular bulky style, providing the wearer with a youthful and fashionable appearance. We suggest topping this joggers outfit with a t-shirt or leather jacket.
3. Joggers with Chelsea Boots
Image Source: i.pinimg.com
You can wear joggers with Chelsea boots as well. Get a pair of trendy, taller Chelsea boots, and tuck your tapered joggers in. Men frequently wear them, but young women are becoming more and more accustomed to wearing these types of boots.
Well-crafted, timeless Chelsea boots are extremely stylish, strong, and comfortable to wear at any time of the year.
4. Slip-on Sneakers with Joggers
Image Source: i.ebayimg.com
The vast majority of individuals nowadays appreciate the simplicity, convenience, comfort, and youthfulness that slip-on sneakers and jogger pants convey. You may complete this appearance and put together a simple weekend outfit by wearing a pair of black joggers, white slip-on sneakers, and a simple T-shirt.
5. Joggers with Combat Boots
Image Source: futurecdn.net
Combat boots prove that they go with almost anything, including joggers and sweatpants! Choose a pair of combat boots that complement your tapered joggers, and add a pair of tube socks that protrude from the boots for a sporty look.
A combination of a denim jacket, Combat boots, and joggers is a terrific styling option if you want to add additional structure to your outfit.
6. Ugg Boots with Joggers Pants
Image Source: footwearnews.com
Still wondering what shoes to wear with joggers? Ugg boots will do. You probably won't give it much thought, but jogger pants go well with Ugg boots. Despite the fact that this fashion trend is still quite new, try it out to develop a unique fashion personality. We suggest topping this jogger outfit off with a casual t-shirt for lazy Sundays on the couch.
7. Ankle Strap Sandals
Image Source: squarespace.com
Ankle-strap sandals and casual joggers are, without a doubt, one of the most fashionable ways to wear your jogger pants. Ankle strap sandals can have a variety of effects depending on the style of pants you wear. For instance, you can wear ankle sandals with leather joggers or dressy joggers if you are looking for a more modern look.
8. Flip Flops
Image Source: ultrapress.com
Flip-flops may not be viewed as a high-fashion item in the strictest sense, but they still have an impact on the fashion world. Jogger pants look great with flip-flops because they're trendy, straightforward, and informal. You can pair them as part of a smart casual outfit with your everyday joggers.
Frequently Asked Questions On Styling high tops with joggers
Image Source: dmarge.com
1. Joggers vs Sweatpants – What's the difference?
As opposed to a pair of skinny jeans or slacks, joggers and sweatpants are more similar in terms of fashion. Nonetheless, they also differ greatly in terms of their adaptability.
Although they were originally designed with the idea of being worn while working out and perspiring, sweatpants are really the least athletically oriented of the two and are more suited for resting.
Sweatpants are typically made of thicker fabric to keep your legs warm. Conversely, joggers are often composed of thinner materials that allow for better ventilation and help to keep the legs cool.
In terms of fit, joggers are form-fitting and tapered, while sweatpants are typically baggy. While both are excellent casual clothing options, joggers provide more mobility and ventilation. As a result, they are better adapted to exercising, especially at any intensity.
While both of these pants can be dressed up for a Friday night out at your favorite lounge or worn casually to relax at home on a wet Saturday, joggers have more possibilities for dressing up.
2. What kind of pants do you wear with high tops?
High-tops have remained popular because they're so versatile. You can pair them with joggers, sweatpants, shorts, chinos, or even jeans. If you choose to go with joggers, choose loose-fitting clothing. It's quite difficult to style high tops incorrectly with jeans because they have such a traditional weekend look.
3. What to pair up with joggers?
Joggers go well with a variety of clothing items and can provide a modern or traditional style, depending on your preference. Some of the clothing that can match perfectly include trench coats, knit sweatshirts, hoodies, Polo shirts, and leather jackets, as well as slim long t-shirts, loose linen dress shirts, and joggers.
If you want, you can wear formal shoes with joggers for a sophisticated casual look, but keep in mind that they might be challenging to pull off. The best solution is typically a pair of lace-free shoes that can be worn without socks. Thus, loafers, dress shoes, ballet flats, high heels, or boat shoes may be the best option. Choose a shoe in a contrasting hue to enhance your appearance.
Featured Image Source: stylegirlfriend.com