Does Pretty Little Thing Run Small? This will be a question on your mind, especially if you have seen numerous reviews online of gutted buyers who couldn't get their sizes right. Unfortunately, Pretty Little Thing often runs small, but that depends on the clothes you want to buy.
If you are still determined to buy clothes from this brand, I will tell you all you must know about their sizing, including why the brand doesn't seem capable of resolving sizing challenges.
Why Does Pretty Little Thing Run Small?
Image Credits: greenmatters.com
Pretty Little Thing is a UK fashion house owned by Boohoo, another UK fashion Giant. Unfortunately, the brand is known for a confusing clothing size chart, a problem that affects young women from most countries, such as the US and Eastern Europe.
The sizing puzzle arises from the fact that Pretty Little Thing is offered in UK sizes, which are different from what other countries use. For example, UK sizes tend to be at least two sizes smaller than the US.
But, it can be challenging to size up to get your size clothing when buying from the US. I recently bought a few summer outfits of the same size from PLT, and they all fit differently. Most were small, while several were either big or were made with cheap material with great potential to stretch after a few washes.
After buying dresses of the same size and none fit like the others, I figured out most of the dresses could be made by different designers, hence the dissimilarity in measurements and fitting.
Unfortunately, these are not issues you want to deal with when buying clothes. And, honestly, Pretty Little Thing clothes are affordable and visually appealing; you will want to buy a few items regardless of their sizing.
So, what could be the solution to this sizing problem? I came up with a two-step buying guide to follow before considering the size.
Factors to Consider Before Buying Pretty Little Thing Clothes
Image Credits: prettylittlething.com
Pretty Little Thing is a fast fashion brand that offers the latest women's fashion at extremely affordable prices. So, you will easily find a celebrity-inspired outfit from the website at a fraction of the price. But the only problem with PLT is how hard it is to get your size right.
So, I came up with these two factors you need to consider before buying any item from them.
a) Fabric
Pretty Little Thing is an affordable fashion house, but you do not expect to find great quality garments from them. Instead, I noticed some clothes come with cheap fabrics, eventually affecting the overall size.
So, as you peruse their website, pay more attention to the type of fabric each garment has. For example, is it stretchy, shrinkable, or stiff?
While the fabric can affect the size, I also found some too thin and revealing, so it would be difficult to wear the clothes in public.
b) The model
Let's admit it as our weakness; models on a fashion house website easily influence us. We instantly think the garments, were we to get the sizing correct, would look as gorgeous on us too.
Unfortunately, that is not the case with Pretty Little Thing. As there is already a challenge with sizing, you want to understand how tall the model on the website is.
One of the ways Pretty Little Thing clothes disappoint with sizing is the length. For example, you might buy a maxi dress that looks awesome on the model, only to find it a tad bit short when you wear it. Luckily, the website states the model's height and what size of clothing she wears.
Where Does Pretty Little Thing Run Small or Big?
Image Credits: scpsunlimited.com
After trying out a few Prety Little Thing dresses, I have insights about where their sizing misses the mark.
a) The Bust Area
Image Credits: popsugar.com
All the dresses I got were either extremely small or big in the bust area. The fitting here is a complete mess and will instantly ruin the drool-worthy look of a new dress.
But you can avoid the wrong sizing by choosing dresses with the best fabrics. For example, you might be safer with dresses that run a bit small but with a stretchy fabric to mitigate the damage. Otherwise, a dress or top with a sturdier fabric will scream undersize.
On the other hand, you always get the chance to doctor a bigger bust area to your size, so the challenge here might be less daunting if you have a good tailor.
b) Height
Image Credits: pexels.com
The height of the dresses was the most challenging for me. Clothes that looked gorgeous on models were too short for me, yet I only picked models of a similar height as me.
So, there might be little you can do about the height, but it might be better to buy dresses worn by taller models. Note, if the clothes are too long, you can always have your tailor customize the length to your size.
c) Heels and Shoes
Image Credits: pexels.com
While clothes tend to run small, Pretty Little Thing shoes almost always run big. I bought a pair of boots that I thought could fit me if I got two sizes larger, but the shoe ran too large for comfort.
When buying Pretty Little Thing shoes, consult their size chart and remember different shoe styles might also affect the size. For instance, boots will run large when you size up, while some heels might fit perfectly if you pick half a size down.
Which Pretty Little Thing Products Run Small?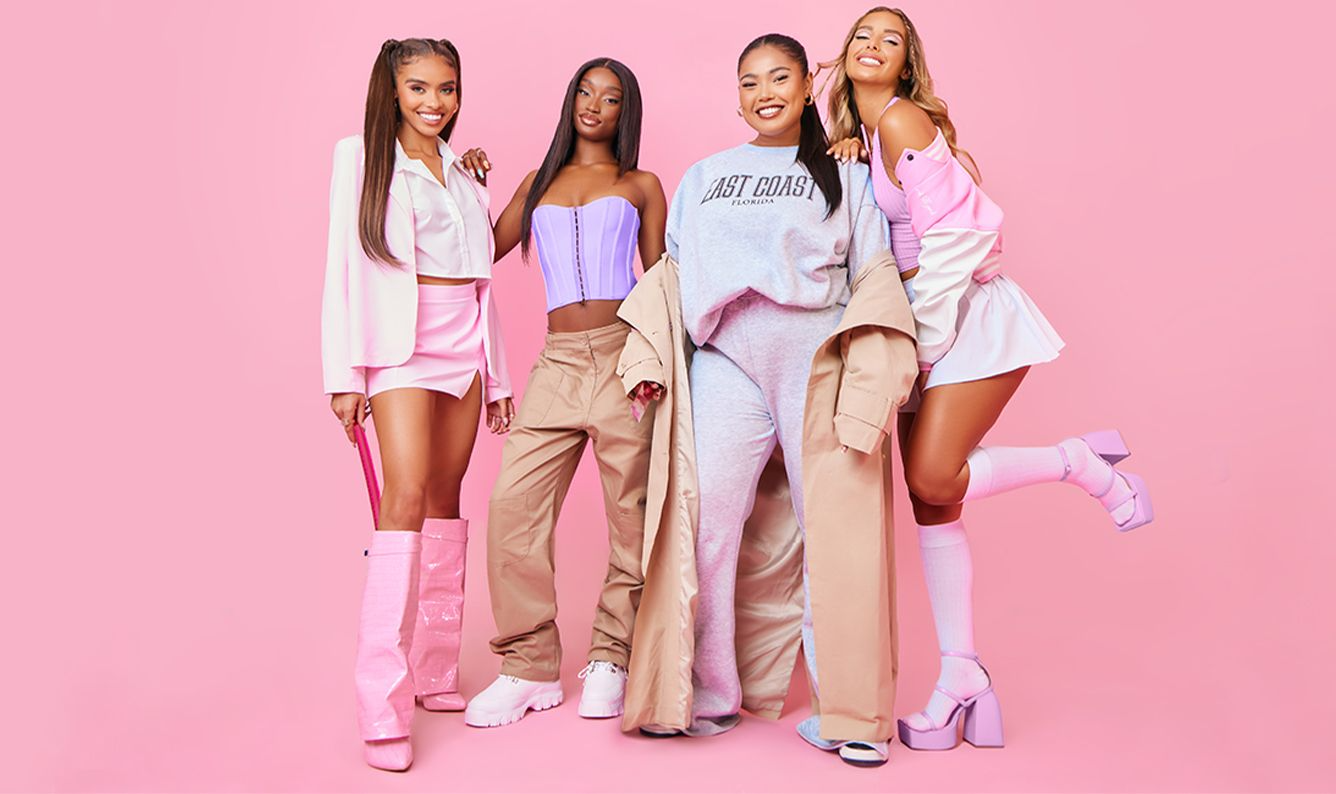 Image Credits: myunidays.com
Most upper garments from Pretty Little Thing run small and will affect the bust area the most. Sometimes, you might get away with the small size if you like tight-fitting clothes or choose stretchy fabrics.
Here is how small the upper garments run:
Dresses- They run at least half-a-size small on the bust area
Tops- They run at least half-a-size small on the bust area
Which Pretty Little Thing Products Are True-To-Size?
Image Credits: hellobombshell.com
Most Pretty Little Thing bottoms, such as skirts, trousers, and shorts, run true to size. I have bought several pairs of jeans from them, which tend to fit well around the waist, hips, and thighs. However, it is best to understand the model's height before buying your pants, so they don't run short.
Again, it is also best to pay close attention to the fabric. I noticed some skirts come with very thin, see-through fabrics that make wearing them hard. In addition, the thin fabrics will wear out much faster.
Which Pretty Little Thing Products Run Big?
Image Credits: pexels.com
Most Pretty Little Thing shoes will run big. So, when buying, understand which shoes need you to size down and which need you to size up. For example, in my experience, you will need to size half a size down when buying heels and half a size up when buying boots.
Besides shoes, it is also very easy for other items from the fashion house to run big, especially when comparing American sizes to the UK sizes the clothes are designed in.
How To Get Pretty Little Thing Sizes Right
Image Credits: drapersonline.com
There is almost no way of telling how Pretty Little Thing products will fit. Sometimes they run big, and other times you may need to size up several times to get one that fits you best.
But don't let that discourage you from buying from this affordable brand. You only need to have your exact measurements to understand your body type. Then, you will be able to compare the measurements o those on the Pretty Little Thing website and mitigate the chances of getting the wrong product.
You can take measurements in inches or centimeters, as these are the units you will find on the Pretty Little Thing website. In addition, it is better to have someone to help you take these measurements so you can relax your body, which will lead to the most accurate measurements. Here is how to do so:
1. Take Measurements of Your Shoulders
You want to keep your back straight, but ensure your shoulders hang and relax naturally before taking the measurements.
2. Take Bust Measurements
Run the tape measure around your chest so that it sits just under your armpits. Again, keep your back straight, and conclude the measurements around the widest part, often at the nipple.
3. Take Sleeve Measurements
Run the tape measure from the shoulder down to the wrist area. Remember to hand your arm naturally as you will when wearing the clothes.
4. Take Waist Measurements
Run the tape around your stomach and conclude the measurements above the navel. Ensure it fits snugly, and insert a finger's width before noting down the measurements. You might want to repeat the measurements around the top of your hip bones to get the best pant waist figures.
5. Take Hip Measurements
Wear very thin garments, then run the tape measure around the broadest part of your hips. Remember to keep your feet together, then insert a finger's width before noting down the figures.
6. Take Thigh Measurements
Wrap a tape measure around the broadest part of your thigh, taking measurements from the front to the back and vice versa. Insert a finger's width for correct measurements.
When you have your body measurements, here are the Pretty Little Things figures to compare yours to for your best sizes.
Image Credits: prettylittlething.com
Does Pretty Little Thing Offer Unique Size Clothing?
Pretty Little Thing offers the following unique size charts for different body types:
Petite
Plus Size
Maternity
Tall
Does Pretty Little Thing Have a Return Policy?
Pretty Little Thing has a return policy for unworn and unwashed garments. You can return the items that run small or big within 45 days and get a full refund. Unfortunately, you will have to pay for the shipping costs, which can be hefty from the US to the UK.