Various buzz cut lengths are renowned for being short, stylish, and simple to maintain. This article will concentrate on induction buzz cuts, in which the top hair is chopped to the same length. Plus, it is the most straightforward classic buzz cut to perform at home.
Butch cut, Ivy League, and crew cut can all be called buzz cut styles. These hairstyles are defined by having longer hair on top that is reduced by a taper buzz cut of variable degrees with clipped-down sides and backs.
It is simple to pick up a pair of clippers, adjust the different lengths with the proper clipper guard, and start cutting. These styles are excellent yet difficult to DIY, including buzz cut mid fade, high-and-tight cut, butch cut, and crew cut. Usually, you will need a dependable barber to take care of these varieties for you.
Why Go for the Buzz Cut?
The variety has been a go-to hairstyle for people who want to project a little bit of roughness. However, there are a lot of additional factors to consider before choosing the different buzz cut lengths.
In addition to being the ultimate low-maintenance haircut that can be affordably done in the privacy of your bathroom, the buzz cut unquestionably provides a striking appearance.
Additionally, making a statement among the audience is not the only goal. A closely cropped haircut might be the ideal way to highlight sharpness or include a neatly kept beard and well-proportioned facial features.
How Long Should a Buzz Cut Be?
Whether you opt to do it yourself or hire a stylist, getting a haircut when you are undecided may be frustrating. Consequently, it may be quite helpful to clearly understand what style could fit you or what you want. Note that hair clipper sizes rise in direct proportion to the haircut lengths.
Buzz Cut Number Zero
The number 0 buzz, the shortest buzz cut, ensures you obtain a clean shave, commonly referred to as a bald fade. To achieve this haircut, employ attachment-free clippers. Although this short buzz cut will reveal your scalp, the hairstyle provides a skin fade and a rock star attitude.
Number 1 Buzz Cut
After the Number 1 cut, one-eighth of an inch or 3.2 millimeters of hair length remains. The front side of the hair is chopped into a wavy line for a leveled-out overall haircut. Every 4-6 weeks, you should get their haircut done to look as nice and presentable as possible and to maintain this style.
You should be warned that if you choose it as an extreme haircut, you will end up with a buzz cut that would show your scalp. To differentiate the top section from the rest of the hair body and draw attention to the existing hair length, consider applying a high fade to the surrounding areas. Growing a mustache improves the appearance and establishes your suitability for sophisticated attire with this hairstyle.
Buzz Cut Number 2
This style suits men with a light complexion, strawberry-shaped jawline, broad foreheads, and level brows. The hair is styled into a quarter-inch length, or 6.4 millimeters, which covers the scalp's sight through the hair.
The style looks gorgeous on all hair types, like most buzz cuts. Therefore, for the most part, it is a fantastic option for those with a thin hairline. If you want to amp it up, add some hair color.
Buzz Cut Number 3
This hairdo calls for trimming the hair to three-eighths of an inch, or 9.525 millimeters. To achieve this style, you should ask the barber to cut the hair well for this appearance so that it grows out with a soft and smooth texture, giving the buzzcut hair a lovely feel.
Additionally, this could attract those nearby to run their hands through your hair to feel how silky it is. The hairstyle is relatively short and does not show the scalp, making it simple to maintain, and growing a nicely trimmed beard and the same length or longer promises to improve your appearance in the best way possible.
Buzz Cut Number 4
The hair length of the number 4 buzz cut is 12 of an inch or 12.7 millimeters. A buzz cut with lengths that resemble both naturally full-grown hair and a buzz cut in equal measure is considered close to mature. It may be seen as the stage after transitioning from a buzz cut at the top to the fourth spot.
The upper section of the patch is left alone, leaving the head surrounded by fading skin. The hairline is left undisturbed because there is no taper to soften the sharp transition between the two lengths, which results in a stylish everyday haircut.
Buzz Cut Number 5
The length of the haircut is five-eighths of an inch. For this haircut, the hair may be brushed and styled in various ways because of its size. Additionally, this haircut number combination makes it simple to contrast the long top with trimmed sides for a gentle transition between different clipper guard lengths.
Whether you have curly or fine hair, this style works equally well. Let the hair growth flow, gradually add a modest fade to the cut, and bleach it to make it look completely out of this world. The hairstyle is the preferred form for people, who love short hair, given that it is neither too short nor too long,
Buzz Cut Number 6
The Buzz Cut 6 hairstyle is what you choose if you want a three-quarters of an inch-long haircut. Additionally, you may use it to reduce the hair on the sides, resulting in a crew cut-like overall haircut. The hair is on the longer side, so combing it up just a touch gives it a somewhat untidy, "just got out of the bed," type of feel while yet making it appear polished.
This haircut may add some texture for a more modern appearance. Your styling immediately improves by incorporating a low fade on either side with the same effect on the neck at the rear.
Buzz Cut Number 7
With Buzz cut number 7, the hair will be reduced by approximately an inch or seven-eighths. You may experiment with the haircut by adding the numbers 1, 2, or 3 to the sides and adding flare. A shorter length on the sides is preferable for a more defined appearance. The size of this haircut is the best and safest choice for everyone, regardless of age.
It will give the area a lightly relaxed appearance. If you become tired of this buzzcut's "good student" attitude, you can always make original drawings on the side or add a splash of color.
Buzz Cut Number 8
In terms of clipper lengths, the number 8 haircut often has the longest length. You may use it to trim the top while having the sides faded with the aid of a smaller hair clipper size. Since the style is the one-inch buzz cut, it leaves 25 mm of hair height.
Spice up the stylistic options, including a high fade on the sides, like the crew cut or butch cut. Keep the front portion a bit longer so you may spike it up to produce original trends.
When Should I Get a Buzz Cut?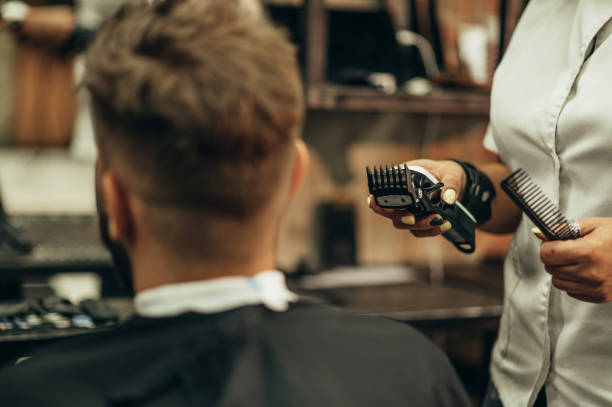 Should I get a buzz cut? You are likely asking this question yourself right now. The buzzcut appearance is a sure thing for you if you have a slender face, a strong jaw, and striking cheekbones.
Remember that trimming your facial hair will not likely work for you if your forehead is already on the larger side or your jaw is something you do not want to attract attention to.
The appearance will work best on those with uniformly proportioned features, including square, oval, or diamond shapes. If you are not in that category, you might be able to pull one off, but it will probably need some inventive beard grooming to square off your jawline.
If your features are softer and rounder, refrain from getting the buzz cut. Do not, under any circumstances, believe the myth that a tight amount gives your chubby, boyish appearance more edge (it does not). Do get it if you are fading and no longer feel like continuing the rescue effort.
Without a doubt, there is no shame in it. However, it would be best if you prepared since stubble or a thick beard will cushion the hit when you initially jump in. Alternatively, you may bring something back to your suddenly uncluttered head by wearing accessories like spectacles or even scarves (avoid caps, weather allowing).
Another thing to keep in mind is that it will be obvious that your buzz cut was optional if your hairline remains unaltered. Some employers might not be too amused by this decision.
The appearance should ideally be young but might instead come across as childish is also important to note. Tightly trimmed hair may painfully evoke an adolescent faux pas in a younger person with a healthy hairline.