Are you ready for that job you've been praying for, and now you want the best suit for your first day? I bet you do, or you need a nice suit and can't decide where to get one from. You may also be looking to buy your first suit, and you want nothing but the best. So, Brooks Brothers vs. Suitsupply, which one is better?
They are both popular and depending on your wants and tastes; you can choose one over the other. So, we would like to take you through these two suit brands to give you insight before you make a decision.
Brooks Brothers
Brooks Brothers was founded in 1818 by Henry Brooks, later inherited by his sons. That is why it's called Brooks Brothers. It is among the oldest American clothing companies still in existence.
Brooks Brothers is popularly known for its suits. However, it majors in other types of clothes, making it a good choice for most types of wear.
The company makes traditional clothes with a focus on quality. Their clothes also accentuate traditionally masculine features, including the chest and shoulders. Plus, they feature slim fits and even those suited for the more mature group of people.
What to Buy from Brooks Brothers
Some of their products include the following;
a) Opera Pumps
This company can get a pair of nice traditional opera pumps. They are formal and ideal for men. You can wear them with a black or white tie for a decent look.
b) Sweaters
Sweaters are an important addition to any man's wardrobe when worn right. Brook Brothers offers different kinds of sweaters which you can choose from.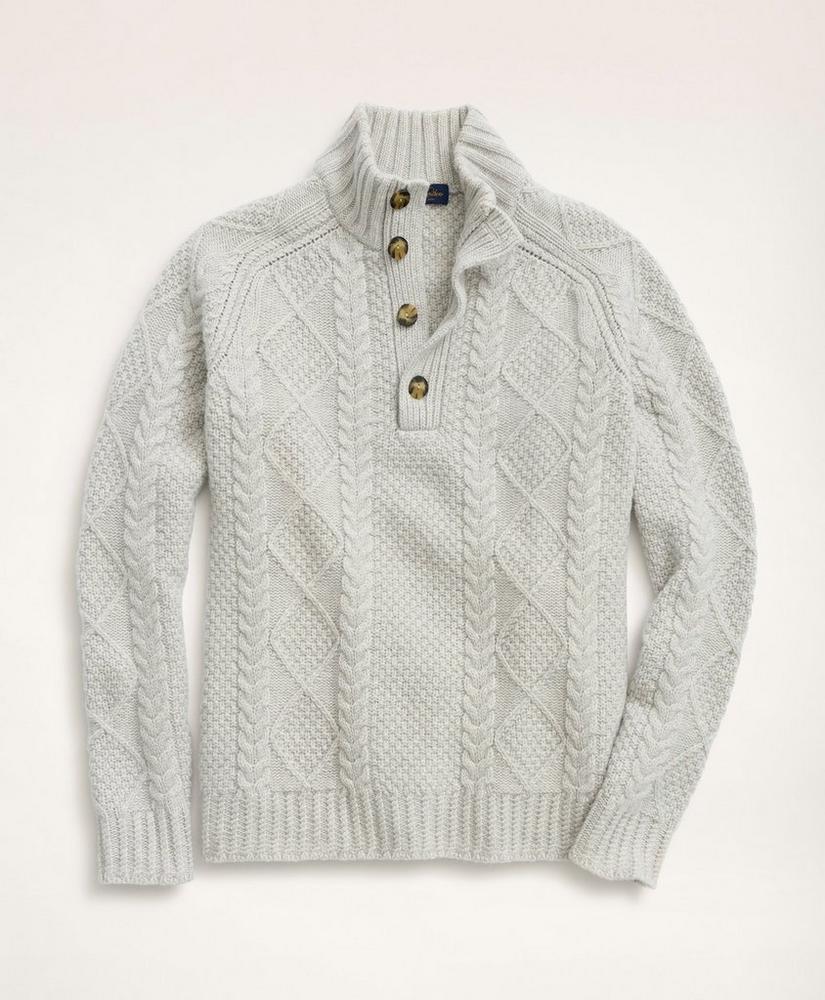 Image Source: brooksbrothers.com
You can select things like V-necks, shawl collars, cardigans, and turtlenecks from the available options. When selecting the materials, it is best if you avoid synthetics. Instead, use natural materials like wool, merino, cotton, or cashmere.
c) Overcoats
Brooks Brothers is one of the few retailers still selling off-the-rack overcoats in various natural materials and timeless shapes. If you care for the clothing well, you should get several years of use.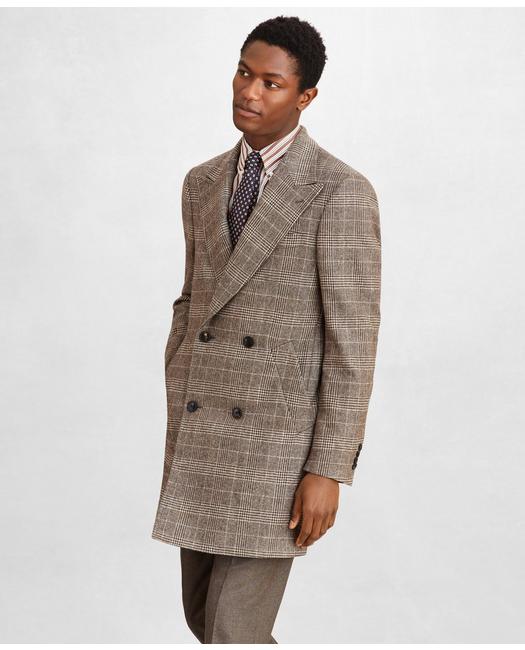 Image Source: brooksbrothers.com
This will significantly reduce that crucial cost-per-wear metric. In addition, they are frequently expensive, but the style is unmistakably classic.
However, avoid more contemporary options like bomber jackets, leather jackets, waxed cotton, down-filled jackets, and so forth because other businesses execute these styles better. Instead, stick with more conventional overcoats.
d) Non-Iron Shirts
These are classic and crafted from cotton woven cloth with a touch of stretch. The shirt is specially treated to be wrinkle-resistant. The materials used include cotton 95% cotton and 5% spandex.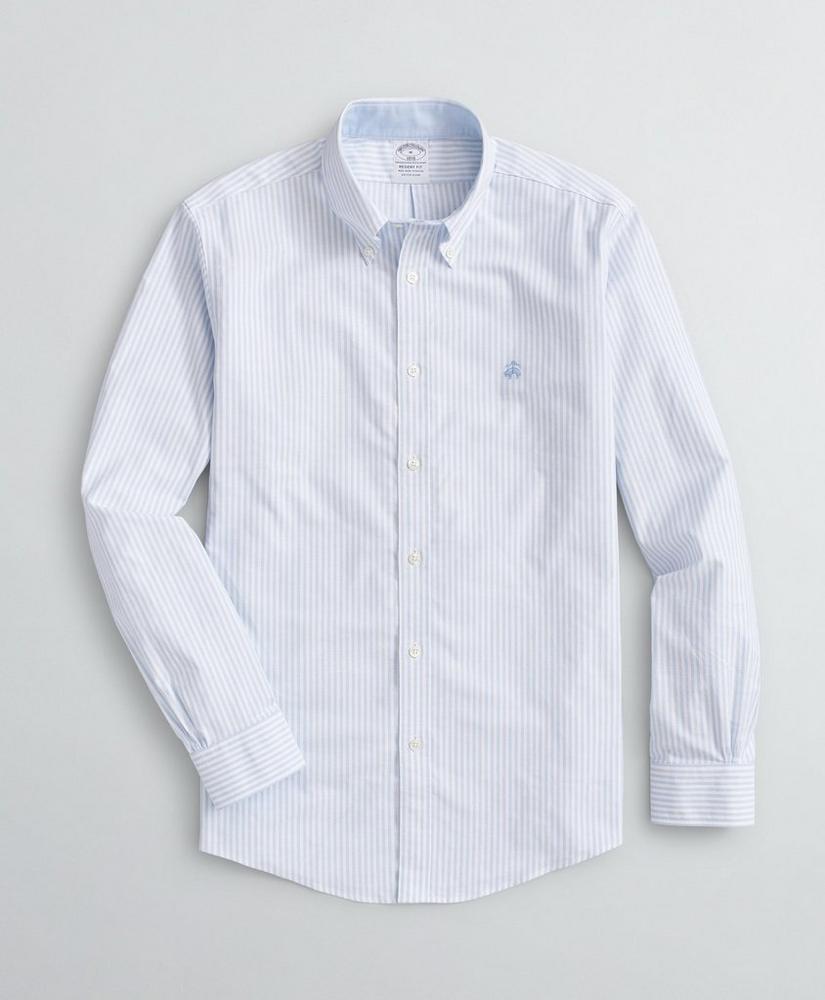 Image Source: brooksbrother.com
Features of a Brooks Brothers Shirt
This men's Wearhouse makes some of the best quality clothes. With a great style and durable fabric, you can get a nice shirt with the following anatomy.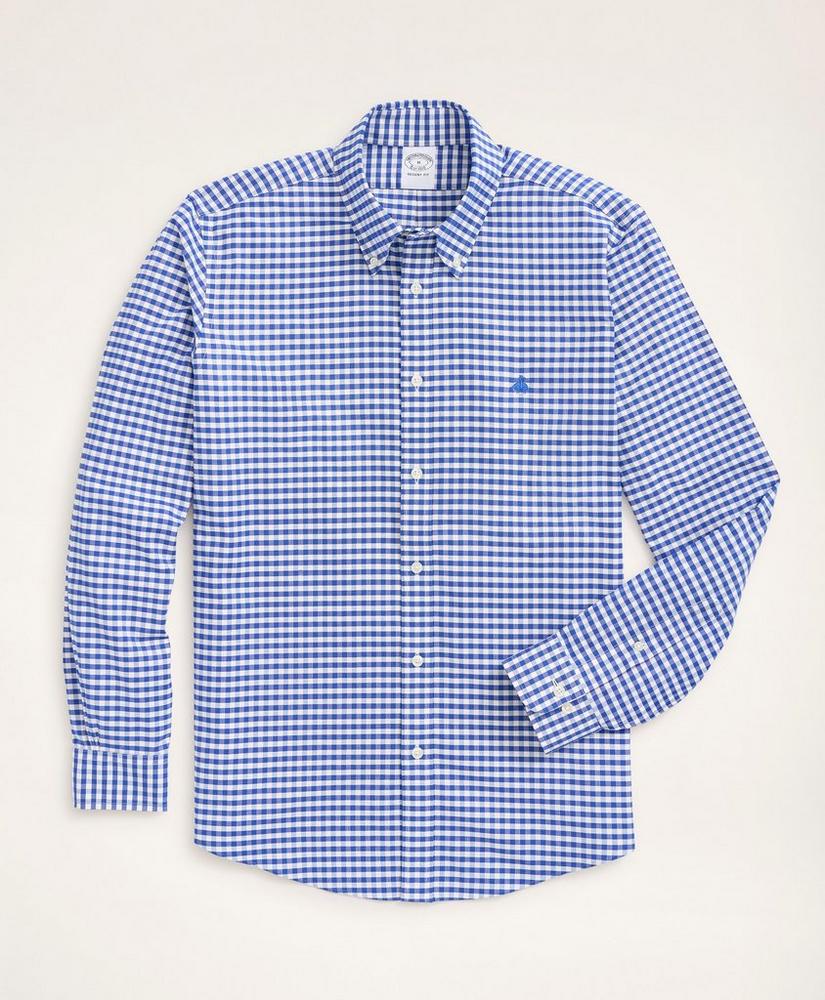 Image Source: brooksbrothers.com
Material– The OCBD shirt is made from Supima cotton. This fabric is among the best and is highest in durability, softness, and long-lasting color.
Buttons- The unbreakable buttons of this shirt make them long-lasting and more durable than other types of buttons. The lower button is also placed so that it allows you to roll the buttoned cuff, avoiding fountain pen accidents.
Tailoring- The single needle tailoring reduces seam puckering to produce a flat and clean finish.
Pattern Matching- With a pocket matching the shirt patterns, you can almost not see it.
e) Oxford Cloth Button Down Shirts
The OCBD was a Brooks Brothers' invention and has several fit options. They include a relaxed and slim fit and feature classic patterns, colors, and styling.
f) Shoes
Brooks Brothers shoes are also commendable pieces that you may like to try. Their shoes, especially the ones under Peal and Company, are among the best. Brooks Brothers bought the company and continue to make good quality pairs under that name.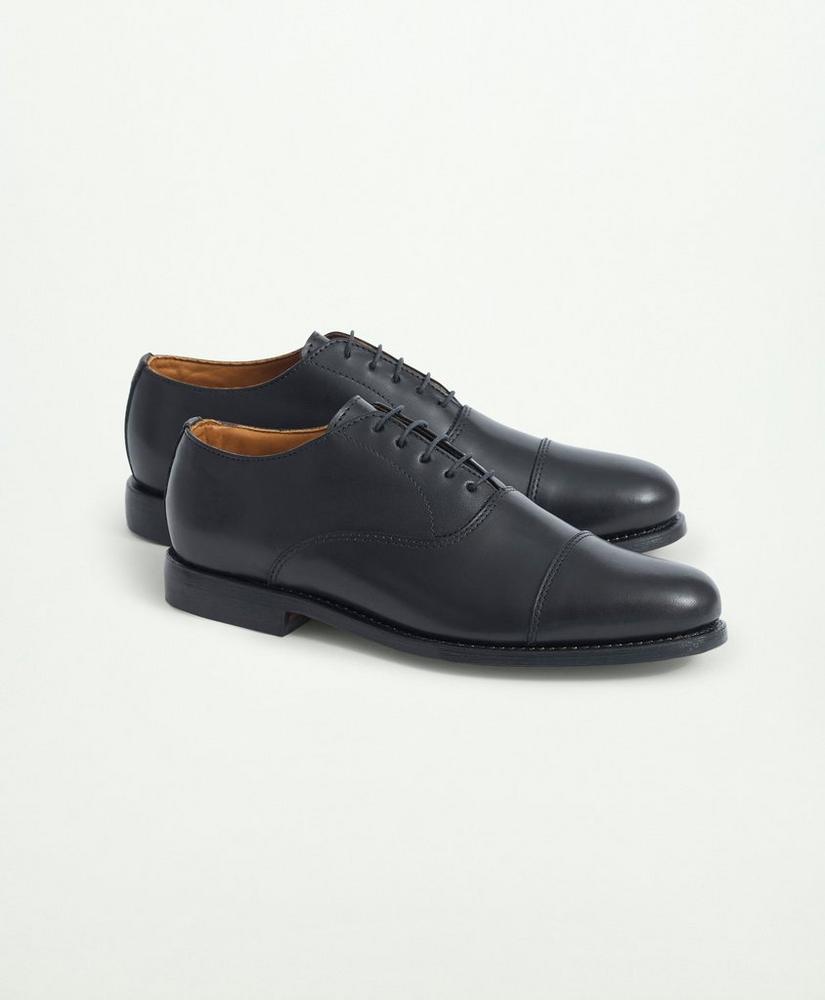 Image Source: brooksbrothers.com
With this type of shoe, you may only encounter one problem, though they do not restock often. Unfortunately, this means that most of the time, they may not have most men's shoe sizes.
Suitsupply
Suitsupply was founded in Amsterdam by Fokke De Jong in 2000. It is an international men's fashion brand and has over 100 stores across the globe.
Eleven years after being founded, the company landed in New York. Its main aim was to provide quality and better services at lower prices.
Suitsupply is for those looking for their first suit without spending all their savings. It is also a men's suit brand that attracts fashion industry icons like Tim Gunn.
Image Source: Forbes.com
Suitsupply uses Italian materials imported from Italy, sews its suits in China, and incorporates features like working button cuffs that are often only seen in suits that cost twice as much.
De Jong likens Suitsupply's business model to how H&M and Zara made apparel more accessible to a certain demographic; Suitsupply is merely doing it at a higher market level.
The business is having success with its online sales. About 30–40% of Suitsupply's purchases are made online. This is a significant percentage for a market where consumers might believe they require a tailor's professional advice before making a purchase.
Suitsupply Suit Fits
Suitsupply cuts suits into three main categories. These sizes include regular, slim and extra slim.
a) Regular Fit
i) Napoli
The Napoli suit is one of the most affordable suits by Suitsupply. It is a basic business suit in shades of blue and dark grey.
It has structured shoulders, notch lapels, and a half-canvas construction. The shoulders and fit are the distinguishing features.
Image Source: suitsupply.com
It is suitable for people who dislike the contemporary slim cut or require additional space at the waist without sacrificing shape. Napoli is the only model in the Blue Line of this company.
The Napoli also has a boat-shaped flap pocket and two button closures. It also has double vents and four functional buttons.
ii) Sienna
For a very reasonable price, the Sienna offers a lot of value. A sophisticated model starts the Red Line with a "contemporary" regular fit.
Image Source: suitsupply.com
It is available in single-breasted styles with ticket pockets, flap pockets, and notched lapels. While Sous Bras ensures that your arms won't sweat excessively, the shoulders are where it stands out.
The armhole is in a higher position. This ensures you can easily move in any direction.
b) Slim Fit
i) Lazio
It is nearly impossible to tell the Napoli from the Lazio just by looking at them. The color of the cuff stitches is the best indicator of the suit model; the Lazio has a purple X stitch and is a member of the Purple Line.
Image Source: suitsupply.com
The Lazio jackets have slightly shorter lengths and a little more tapered pants. The Havana and this particular model have the broadest range of patterns and textiles.
It uses wool from the storied brand Vitale Barberis Canonico and typically has a brown lining. You'll experience your first taste of three-piece suits and silk, mohair, or cashmere blends here.
ii) Havana
Patch pockets, slim fit single-breasted, half-canvas, and unconstructed natural shoulders are the main features of the Havana. Pockets and daring, casual styles or materials like Giro Inglese or Alpaca make them instantly recognized.
Image Source: suitsupply.com
The Havana is ideal for people who like bold patterns without sacrificing a contemporary shape or dislike shoulder padding.
iii) Jort
Suitsupply and Jort, reportedly a well-known character in the Netherlands, collaborated on this suit. He creates all kinds of bizarre stuff, such as Dracula capes, kilts, and helmets.
iv) La Spalla
La Spalla is the most luxurious Red Line suit from Suitsupply. It is a slim fit with many handstitched details, and the suit has Brace buttons and a shirt shoulder.
c) Extra Slim Fit
i) Washington
Washington is the only extra slim fit model in this company's collection. Washington is the standard, starting model A single-breasted jacket with peak lapels.
Image Source: Suitsupply.com
Additionally, it has a longer base length and 5 buttons on the sleeves. This makes it ideal for slimmer individuals who require a tailored fit.
The higher armholes and the heaviest constructed shoulders among all Suitsupply models are additional features. Also, it has a half-canvas design.
What to Consider When Buying a Suit?
When buying a suit, you need it to fit perfectly without sacrificing the following things.
a) Fabric
It's crucial to purchase a high-quality fabric that can last over numerous seasons because its quality may make or break a suit. For example, the textile quality of a wool suit varies, and various mills generate a wide range of outcomes.
Image Source: Suitsexpert.com
Even though higher quality costs more, the investment will be worthwhile in the long run. Wool suits are among the most sought textiles for business settings, and if you want to go out, cashmere and high twist wool blends are pretty spectacular to wear.
b) Waistband
A waistband should always have extra room, and pants should be tight across the hips. In addition to being irritating, a tight waistband will pull on your skin and enlarge your waist, which is never attractive.
c) Sing Breasted vs. Double Breasted
Most occasions, including work and social gatherings, allow you to don a single-breasted suit. In contrast to a notch, a peaked lapel is more dramatic and adaptable.
Despite the distinctive looks of double-breasted suits, they are rarely chosen as first, second, or even third suits. You can also get one made-to-measure and styled with intention.
d) The Perfect Fit
Going for a ready-made suit could be challenging as not everyone has the same body shape. A common problem associated with a poor-fitting jacket is the suit shoulder divot which can be frustrating.
Image Source: Culwellandson.com
The jacket and pants must have a proper fit. Your shoulder pads must terminate at the shoulders, and the arms must hang straight and long for a flattering fit. If you prefer to have ankle pants, you can check out our guide on the kinds of shoes that go with such an outfit.
Suits that are baggy and poorly fitted seem quite clumsy. Additionally, consider how your pants fit and check the right place to wear them. So, depending on the type of pants, check out where they should sit for comfort.
Frequently Asked Questions on Brooks Brothers Vs. Suitsupply
1. What should I look for when getting a suit tailored?
Aim for a slim fit. Also, ensure it has clean lines that accentuate your body shape. The second thing to look for is that you shouldn't feel any restrictions while walking or sitting. You should, rather, feel comfortable in it.
2. Is it worth it to get a suit tailored?
Getting your suit tailored improves the overall fit as it is made-to-measure. This also ensures it lasts longer, so you can wear it more. Remember that when tailoring a suit, the overall long-term benefit outweighs the short-term cost. So, it can be cheaper than buying one ready to wear.
3. Where are Suitsupply clothes made?
Suitsupply is a member of the Fair Wear Foundation. It uses fabrics sourced from Italian mills like Reda and Vitale Barberis Canonico. The suits are made in China.