We all have that day when we get bored of wearing our usual suits to work and consider adopting a more casual look. However, we have to ask the question, are Converse business casual? Yes, they are. This article covers various aspects that permit one to wear Converse shoes while maintaining a business casual look.
Let's get started!
Is Converse Business Casual?
In many modern organizations, Converse shoes are acceptable for business casual attire. Wear business casual shoes that complement the formal outfit by choosing professional and understated styles.
Some folks work in a laid-back setting. Hence, they can explore the traditional Converse shoe designs with their regular workplace attire. We also discovered that these lifestyle shoes transformed our dull business appearance into stylish and polished ones!
Image credit: popsugar.com
However, many jobs don't permit Converse shoes and other types of sneakers. That is unfortunate. If your workplace forbids it, you cannot dress in Converse as business casual sneakers.
Are you unsure which pair of Converse to wear for a business-casual environment? Converse sneakers in black and white are a good choice. They are unquestionably stylish and refined. They will wonderfully complement your formal attire, giving the impression that you have a sense of elegance, unlike the colored Converse.
If your workplace is laid back, like working as a barista, you can get away with wearing cool Converse sneakers. Business casual sneaker materials come in various colors, so you can stand out and complement your outfit!
Can I Wear Converse to the Office?
Yes, you are allowed to wear Converse to your place of employment. The only restriction is that you'll probably need to wear white or black Converse shoes, depending on the situation. It could seem odd to some people.
Image credit: stylevore.com
Others could understand it since black and white shoes are associated with professionalism. Black Converse shoes convey the idea that whoever wears them understands how to present themselves professionally. But wearing black shoes as business casual appears to be a convenient choice.
Additionally, wearing black Converse sneakers helps you adapt to practically any situation. The shoes will be informal for brunch; if you want to eat after working with a customer. During tryouts, we found that white Converse shoes have a way of making you stand out. So, white ones are the way to go if your objective is to be a type of eye candy at a gathering of people.
On a related topic, determine if your supervisor or the office administrator must adhere to dress standards. When breaking the office dress code, it is best to be cautious than sorry. Business casual shoes are acceptable in certain areas, while others have strict rules concerning them.
Is Converse Comfortable for Work?
Converse footwear is renowned for not being the comfiest brand available. Be mindful if your top concern is comfort. Since clients have criticized their shoes for lacking adequate arch support, working in them for an extended period or even all day may be damaging in the long term. Thus, there may be better choices than wearing Converse for extended periods.
Image credit: sovipmall.top
Some consumers even had problems with their feet when utilized for extended periods. But you may immediately and partially solve this by adding an insole, making your feet feel better over time. You can also aim to wear dress shoes such as Derbies that are convenient.
How to Style Converse Shoes with Business Casual Clothing
There are several ways to style a business-casual ensemble. You can wear Converse with a collared shirt, a suit, or denim for a cool, laid-back look. As long as you have the appropriate outfits, you can pull off your best casual wear matched with Converse sneakers.
We have selected various clothes that would be considered business casual, along with the finest Converse shoes to go with each.
1. Business Casual Ensemble with Jeans
White Chuck Taylor All-Stars are the ideal Converse footwear if you like denim. They will go well with a pair of blue jeans and a blue or denim button-down shirt.
Image credits: popsugar.com
The denim business casual style is best achieved with high-top Converse sneakers. Male college students can wear this outfit to the office because it is informal.
2. Suit Attire with Converse
The Converse may seem out of place with your suits, but it's OK if you dare to wear them. By putting on a pair of black Converse sneakers with a black or gray suit, you may pass for a business casual look.
Black Chuck Taylor All-Stars with high black socks are the optimum height for your Converse footwear.
3. Converse Sneakers for Groomsmen
Every wedding has its unique styles and themes. Some groomsmen can be seen sporting Converse with a tux or suit at some weddings, as you may have experienced.
Given the popularity of Converse among groomsmen, you may also see this outfit on Pinterest. If you are one of the people who want to dress shoes for a wedding, you can pull this look off. You may use the same colors of sneakers, whether the wedding theme is black, red, or pink. You can choose between the High top and Low top Chuck Taylor All-Star.
Depending on the wedding's theme, several colors can be picked. Converse Chuck Taylors for men and women. Converse Unisex Chuck Taylor classic sneakers. You may accessorize your semi-formal outfit with Converse shoes if you're headed to a wedding or professional event.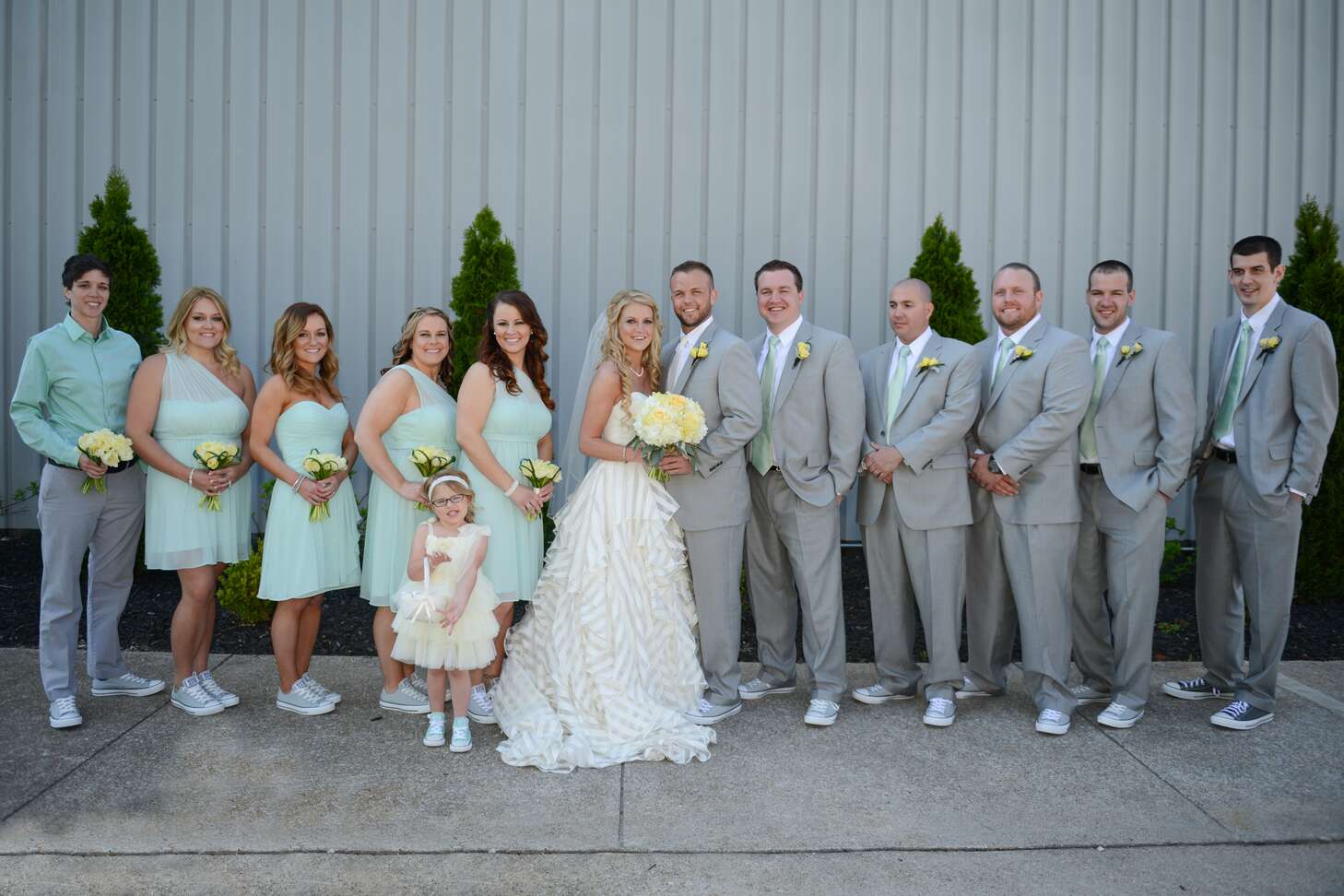 Image credit: theknot.com
You may wear a mandarin, white t-shirt inside a blazer or formal jacket. To achieve a tremendous semi-formal style, wear straight slacks and a proper coat in the same hue. Consecutive pants in shades like burgundy, grey, black, dark brown, or navy blue are appropriate to pair with dark-colored formal coats.
You can wear a white mandarin shirt inside paired with white Converse sneakers. You can choose either High-top Chuck Taylor All-Star or Low-top Chuck Taylor All-Star.
4. Converse and a Collared Shirt
You can also wear collared shirts with black denim jeans to pull off the essential business casual attire and your preferred pair of Converse. You may choose from various shirt styles, including checkered shirts, gingham, white button-downs, dark colors, and colored shirts.
Image credits: thefader.com
With this business-casual outfit, you may accessorize with White Chuck Taylor All-Stars to give off a little nostalgic impression.
What to Take into Account If You're Wearing Sneakers with Business Casual
When dressing in business casual, you should consider how simple the shoes, suit, and clothing are.
For you to pull off the greatest business casual style, we have compiled comprehensive information.
a) Think About Simplicity
Start by pairing your shoes with straightforward clothing to pull off a successful work casual ensemble. Try pairing leather sneakers in a neutral color with pants and one colorful button-down shirt.
You can achieve a stylish and respectable office appearance by pairing your shoes with a single-colored button-down shirt and pants.
b) Think About Good Tailoring
Combining your shoes with a sharp suit or clothing is advisable while dressing in a business-casual environment. Your appearance will look disheveled if you wear baggy clothes.
Image credit: sovipmall.top
Garments that are too loose highlight how informal sneakers are.
c) Think About Donning Formal Clothing
Wear sneakers with a formal suit or other clothes like a well-fitting suit to blend traditional and informal looks. Sneakers and a legal case offer a superb blend of business casual appearances.
Is Converse Smart Casual?
Undoubtedly not. Smart casual does not include Converse sneakers. Don't be shocked if certain publications, such as Topman, which is well-recognized for publishing men's fashion magazines worldwide, claim that Converse shoes are ideal for smart casual.
Canvas shoes are often not associated with the concept of smart casual, so there is little opportunity to question whether they are smart casual in the first place.
What Distinguishes Smart Casual from Business Casual?
An average normal individual might wonder why so many varied dress codes exist, particularly for business casual and smart casual settings. So, you would be supported and in the right, if you had any doubts. Most people frequently mistake these styles, and some even believe they are the same.
Business casual is dressing professionally without needing to wear a suit or tie. However, smart casual requires a mix of informal and business wear.
A jacket worn with casual shoes and jeans is a typical illustration. The majority of occasions where smart casual is appropriate do not involve work. Smart casual is for any situation with nothing to do with business.
Image credit: dshopsm.tk
Smart casual is more of an extension of business casual than a real difference. It is plausible enough for one to believe it. However, keep in mind that casual and smart casual is not interchangeable. Casual clothing excludes any work wear from how someone is dressed. It may be casual, and you can wear virtually anything.
Wearing Converse to Work
Converse are appropriate for the workplace, but only if sneakers are permitted, as suggested in the introduction of this article. Converse sneakers can be worn practically everywhere and with almost anything, if you're allowed to.
Wearing flamboyant or colorful clothing should be done with something other than Converse sneakers. Maintain as much simplicity in your attire as possible, and ensure you dress shoes that are neutral in color; they are not too dazzling. Otherwise, you may be trying too hard to attract attention and give that impression.
Featured Image Credit: kendieveryday.com